Gluten-Free Stuffing Mixes: We have choices!
It's almost Thanksgiving – do you know what that means? Stuffing. And, thanks to the proliferation of gluten-free stuffing brands, we now have choices – lots and lots of them. Here's a rundown of gluten-free stuffing mix options, as well as links to some who have taste-tested many of them. Our favorites?  Connecticut-based Aleia's and Massachusetts-based Gillians, of course!
Live near an Aldi's? They've got the LiveGFree brand of stuffing, and it's probably the most budget-friendly option.  It's free from gluten, dairy, cholesterol, and nuts.     
Don't want to make it yourself? Grab a bag of Ian's from the frozen section. It's free from gluten milk, casein, soy, eggs, peanuts, and tree nuts! 
Three Bakers is based on the east coast. You can get their stuffing in stores or online. It's free from soy and dairy, but contains eggs. 
Aleia's, based in Branford, CT, was making safe, gluten-free stuffing before it was cool. It's free from gluten, dairy, corn, and trans fats. It's also low sodium and kosher. And if you ask us, it's one of the best. 
Wanna make it yourself? Whole Foods has your gluten-free bread cubed and toasted! 
Glutino makes so many of our favorite products!  Their stuffing is dairy free, but contains eggs. 
Did you know that Williams Sonoma even make gluten-free products? They make lots of them, including stuffing. And if you act fast, you can get it on sale right now. 
We just love Trader Joe's, but word on the street is that the Aldi's stuffing mix is better. This one contains eggs, milk and soy. 
Wanna save on carbs and calories? Green Giant now offers a riced cauliflower stuffing, free from dairy and eggs. And you can grab it in the frozen section!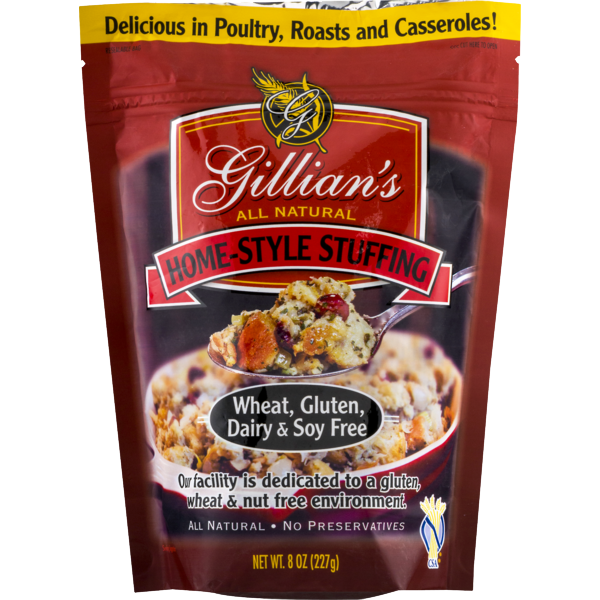 You just can't go wrong with Gillian's. Their stuffing mix is free from wheat, gluten, dairy, and soy and nuts. And they're based in Massachusetts. 
Click on the links below for gluten-free stuffing taste tests! 
Gluten Free Stuffing Mixes
Click here to learn about our expos and events!