Gluten-Free Chocolate Chip Cookie Pizzelles!
Did you know that you can use this amended chocolate chip cookie recipe to make gluten-free chocolate chip cookie pizzelles?  It makes approximately 12 pizzelles, depending on your press.

Ingredients
1 stick butter or non-dairy butter substitute, softened
6 tablespoons light brown sugar
6 tablespoons granulated sugar
1/2 teaspoon vanilla
2 eggs
2 cups gluten-free flour (we like Bob's Red Mill)
1/4 teaspoon salt (they tend to taste saltier when baked on the press, so we lowered the salt from 1/2 teaspoon)
1/2 teaspoon baking powder
1/2 cup mini chocolate chips, more if you like (dairy free works)
Dipping Chocolate

1/2 cup chocolate chips (non dairy works)
2 teaspoons coconut oil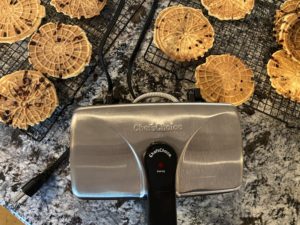 Directions:
Preheat pizzelle iron.
Cream together butter, light brown sugar, and granulated sugar.
Add eggs and vanilla and mix well.
Add flour, salt, and baking soda and mix well. Dough will be very thick. Can add a little more flour, if you like.
Grease the pizzelle iron, if necessary. This batter may not require it, but we always grease ours. Put a heaping tablespoon of chocolate chip cookie batter onto each side of the press and close. Press gently to ensure that the batter spreads evenly.
Cook for approximately 2 minutes – every batter and press is different, so you can adjust the amount of batter. Carefully remove the pizzelles from the press and place on a cooling rack.
Make the chocolate by combining the chocolate chips and coconut oil in a microwave safe bowl. Heat in 30 second increments, stirring each time, just until the chocolate is smooth.
Dip the cooled pizzelles in chocolate and cover with sprinkles of your choice!
Click here to learn about our expos and events!
Click here to read more of our latest posts!