Gingerbread Houses, Latkes, Rugelach, Oh My!
It's the time of year again for holiday eats and treats. Here's a list of some of our favorite local businesses and national brands offering celiac-safe gingerbread house kits, latkes, desserts & more, along with tips and hints to help make your holidays easier. Happy Everything! 
Jewish Cuisine and Treats
Challah Connection (celiac-safe)
Website only (no storefront)
Delicious GF challah, rugeluch, apple cake, babka, brownies, cookie platters, and more delivered to your door!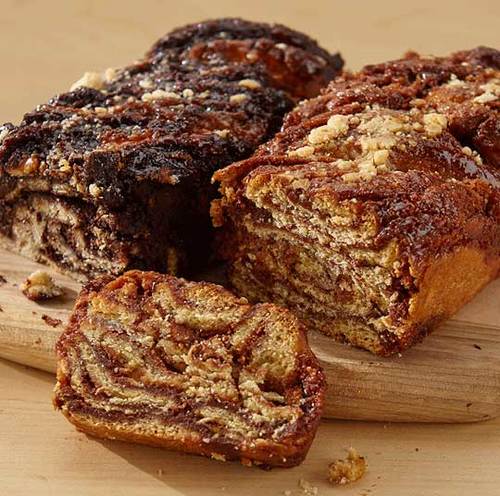 Inna's Kitchen (dedicated GF)
Newton, MA & Boston Public Market
Latkes, challah, stuffed cabbage, soups (chicken soup too!), pot pies, turkey chili, salads, Middle Eastern items and more, all from a dedicated GF and certified kosher kitchen.
Delivery available to many MA zip codes listed on their website
Katz Gluten Free
Available in your grocery store's frozen section
Katz is a national dedicated GF and certified kosher brand of frozen foods. From jelly donuts to rugelach, challah and more, you'll find their delicious treats in your grocer's freezer. They also offer sugar free, soy free, and vegan items. (Fun fact: In Israel they eat jelly donuts to celebrate Chanukah!)
Manichewitz
Available at most grocery stores
Making a whole Hannukah dinner? Get your hands on this kosher, GF matzoh ball mix. It's as delicious as it looks.
Make your own latkes with this recipe!
The best latkes are always homemade. Click here for a healthy recipe made with kale and sweet potato.
Latke Hint #1:
Don't feel like making latkes? Ore Ida hash browns are gluten free and available at most grocery stores!
Latke Hint #2:
Looking for a healthier latke? Try Trader Joe's Cauliflower Pancakes.
Latke Hint #3:
Believe it or not, Williams-Sonoma sells adorable mini gluten-free latkes. We've never had them, nor do we know how they're shipped. But they're gluten free and we thought worth sharing!
---
Dedicated Gluten-Free Gingerbread Houses

Check out this list of dedicated GF bakeries in the New England region that will ship a celiac-safe gingerbread house kit (and lots more) directly to you! 
Annie May's Sweet Cafe
Newton, MA
Delivers nationwide
A&J Bakery
Cranston, Rhode Island
Delivers nationwide
Izzi B's Allergen-Free Bakery
Norwalk, CT
Delivers nationwide
Jennifer Lee's Allergen-Free Bakery
Boston Market
Delivers nationwide

Looking for celiac-safe holiday cookie trays, cakes, pies and more? You have choices! There are so many dedicated GF bakeries throughout New England offering incredible options, including the bakeries listed above.
Check out our GF bakery and dining directory HERE and filter by "Dedicated GF" to find one near you!
Holiday Hint #1:
Make your holiday a little different this year with a decadent, gluten-free ice cream cake from Abilyn's Frozen Bakery, based right in Massachusetts.  Available at Big Y stores! (note: they're working on a dairy-free one as we speak!)
Holiday Hint #2:
Wanna wow your guests? Order dedicated GF pierogi for your party from Make It GF. They ship!

Add your favorite holiday recipe, item, or Holiday hint to this list! Email Abby at abby@wickedglutenfree.com and we'll get it right in!
---
Gluten Free Gingerbread House