This Gluten-Free and Vegan Sweet Potato Chili Recipe is one of our family favorites!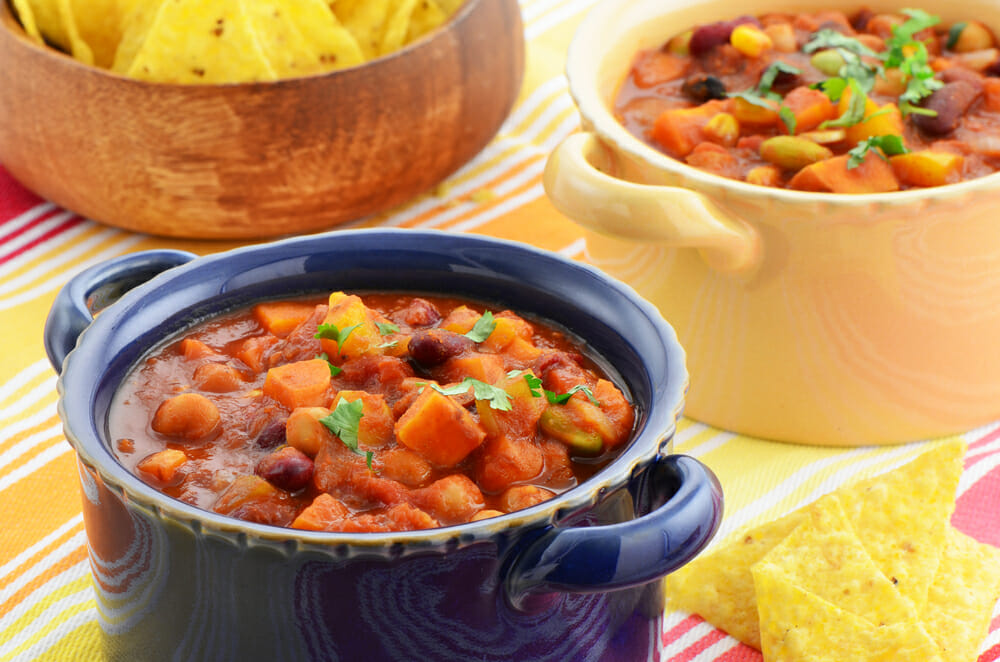 Ingredients
1 medium onion, minced
1 red bell pepper, chopped
1 green pepper, chopped
1 medium sweet potato peeled and cut into 1/2″ cubes. (We add more sweet potato because we love it!)
1 tablespoon olive oil (we use avocado)
4 cloves garlic
1 teaspoon ground cumin
1 teaspoon chili powder
1 teaspoon cayenne pepper (optional – depends on how hot you like it!)
2 teaspoons unsweetened cocoa powder
1/4 teaspoon cinnamon
1 28 oz. can dices tomatoes with juice
1 15 oz. can black beans, rinsed and drained
1 15 oz. can kidney beans, rinsed and drained
2 cups vegetable broth
Directions
In a large pot, heat the olive oil. Add the chopped onion, peppers, and sweet potatoes and a sprinkle of salt and pepper. Cook about 5 minutes, stirring occasionally, until the onions turn translucent.
Reduce heat to low. Add garlic, spices, cocoa powder, and a dash of salt and pepper. Then add tomatoes with juice, beans, and broth. Bring the mixture to a simmer. Cover and cook for about an hour, keeping it at a gentle simmer.
Serve with whatever toppings you like – vegan or not, depending on your leaning. Oh, and it's even better the second day!
Click here to see more of our latest news, reviews, and recipes!