Thank you Karen from Healthy Gluten-Free Family for these crispy gluten-free zucchini fries! Karen is known nationwide for her whole food, crowd-pleasing, easy-to-follow gluten-free recipes. Browse her website and follow her on social media!
www.healthyglutenfreefamily.com
Instagram: @healthyglutenfreefamily
FB: HealthyGFfamily
Twitter: HealthyGFfamily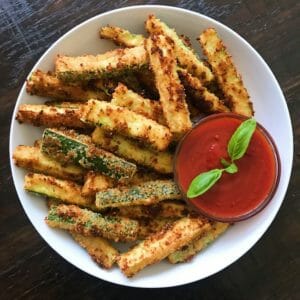 Ingredients
3 zucchinis, cut into sticks 1/4 or 1/2 inch thick x 3 inches long
2-3 eggs
3/4 cup gluten-free panko bread crumbs (we like Aleia's)
3/4 cup parmesan or dairy-free alternative
1/2 teaspoon salt or to taste
Instructions
Preheat oven to 425 degrees. If using a fryer, preheat the oil.

Line two baking sheets with parchment paper.

In two medium bowls, whisk two of the eggs in one, and in the other, combine the bread crumbs, parmesan, and salt.
 Dip one zucchini strip into the whisked egg, allowing the excess to drip off. Then coat it into the breadcrumb mixture, and set it on the baking sheet. Continue with all of the zucchini strips, leaving space between each to ensure crispiness!  If needed, whisk the third egg into the egg bowl.
Baking
Bake at 425 for 15-18 minutes or until golden brown.
If your zucchini strips are thick or not tender, cover them lightly with foil and bake an additional 5 minutes or until done.
Serve with your favorite dipping sauce!
Frying
Preheat fryer to 350.
Place the zucchini sticks in a fry basket and fry for 4-5 minutes, depending on the thickness of the sticks.
Serve with your favorite dipping sauce!
Air Fryer? Try it and let us know how they are!
Click here to see more of our latest news, reviews, and recipes!